Liu, Hsiao Hui . 劉曉蕙
"Installation" Artist From Taiwan
Oct ~ Dec / 2015
Out-door "Installations" on CCA retreat.
Various venues around the community.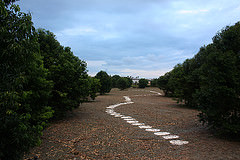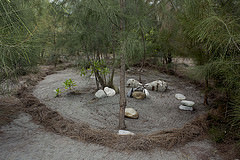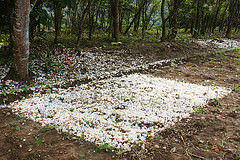 The CCA Retreat is in a forest, where nature and humans live together.
...............................
I wish to experience life there from Oct ~ Dec / 2015, to feel the season change..
My senses will come to contact the natural environment.
From here, will my works and actions be one.
I hope to experiment with artwork there, as it will open many feelings and offer a new vision.
I am interested in the conjunct, and intertwining of humans and nature.
I tend to produce my artworks on the natural side.I often wonder how humans are to exist in the world, and the essence of people themselves.
I thought people are natural beings, something doing as all other animals do.However, human thoughts are not the same as other animals.
With art, I hope to explore this conflict and come to understand the juxtaposition.When I enter a natural environment, I feel the aroma, the wind flowing around, the sounds, the lights, the full spectrum of colors…all stimulating my senses.
Creative Discourse

Through observation, nature forms and takes shape in the viewer's eye, becoming the scenery and landscape that it is. Living in Hualien, Taiwan, I have often felt the vastness of our world. What is the meaning of life? What are the mysteries of the universe? What is the purpose of creation?
To live in nature seems almost as unnatural to most, and is the biggest reason for life—to survive.
Liu, Hsiao Hui 劉曉蕙 : Taiwan
Liu, Hsiao Hui Resume :
Department of Mass Communications graduate Culture Visual Arts
...illustrator / poetry/ teach art courses for children
2015 - Chinquapin Center for the Arts: Grants Pass, Oregon, USA
2014 - Taichung / installation art [Hualien - Macau - Taichung sea postcard]
2012 - Macau Fringe Festival /installation art [Drifter]
2010 - Hualien Gallery /the solo exhibition [waters zoon]
2009 - East Coast Foundation/ exhibition [Object of spirit]
2005 - Hualien, Huilan second international creation camp [Smoke for humanity]
2003 - Hualien, Huilan first international creative camp [Fire sea], [Wings]
2001 - The Taipei Arts Festival stage device Crown [Between]
2000 - Hualien beach [Fire River], [Sunburn], [bite from machine]
_______________________________________________
______________________________________
____________________________________
Weaving a Trail
_________________________________